Day 1 – 18 November – Bremerhaven
By train, plane, ferry, and car, we came from around the world to gather in front of our home for the next four weeks: the Akademik Treshnikov. This 500 foot ice breaker will take us from Germany to South Africa on Leg 0, the first section of an historic journey to circumnavigate Antarctica and visit all fringing islands to investigate, sample, and increase our understanding of the Southern Ocean. Thanks to the generosity of Dr. Frederik Paulsen, we 49 students representing 14 different countries were invited aboard this first leg of the Antarctic Circumnavigation Expedition (ACE) to learn about oceanographic research methods and to foster international collaborations in marine and atmospheric science. Our backgrounds and research interests are varied, from atmospheric particles to Himalayan
glaciers to coral reefs, but we all share a love and curiosity about the ocean. I myself am a third year PhD candidate at the Bodega Marine Laboratory in California studying the resiliency and habitat use of kelp forests in the face of climate change and rapid coastal development. Our collective excitement and enthusiasm immediately
overcame language and cultural barriers as we all chatted and introduced ourselves. I can't think of a better group to be with on the open seas of the eastern Atlantic!
Day 2 – 19 November – Bremerhaven and departing port
As supplies were loaded onto the vessel, we were treated to a tour of the impressive Alfred Wagner Institute, the leading institution in polar research and conveniently based in Bremerhaven. We also got our first introduction from Dr. David Walton, the chief scientist for ACE. He emphasized time and again the unique nature of this expedition – the very first undertaking by the newly minted Swiss Polar Institute. Not only is this expedition a collaboration among the governments of seven countries, the 22 projects aboard hail from 30 different countries and all of this was planned at the breakneck speed of only one year. Considering how much trouble I had arranging the simple travel requirements to make it to Bremerhaven and home from Cape Town, I have trouble fathoming the logistical behemoth of planning a whole expedition! Dr. Walton summed it up when he said:
When you embark on a cruise like this nothing is certain, except that it will be interesting.
Tonight is our last day at port, and in true maritime tradition, we were all treated to a send-off worthy of this historic expedition. The Swiss Consulate hosted an elegant reception for all on board the vessel and the various dignitaries, politicians, and other individuals who made the voyage possible. We heard from the Swiss ambassador to
Germany, the mayor of Bremerhaven, and Dr. Paulsen himself, the man who started the whole idea of this expedition. Each of them emphasized the importance of international collaboration and the excitement of the journey to come, wishing us calm seas and fair winds. In traditional fashion, the night ended with
toasts, rowdy sea chanteys, and German gluvine. Despite wishes for calm seas, we depart into storm Angus! Back on board in my room shared with fellow students hailing from Russia, Norway, and Switzerland, we secured our belongings and locked all drawers in preparation for a rough night of high seas. The journey begins!
Day 3 – 20 November – en route to Southampton
Storm Angus delivered! Today we are confined to the innards of the ship as we make our way to across the English Channel to Southampton to load helicopters and other supplies. Sampling and all deck work are postponed and all of us are desperately finding our sea legs and staving off sea sickness. Luckily this ship is solid and the rocking is minimal considering the height of the swell.
Dr. Stefano Aliani (Italy) gave a powerful lecture on the issues of marine litter in our oceans. Did you know the Great Pacific Garbage Patch contains an estimated 3.5 million tons of plastic? And that these garbage patches are being found in all the great gyres of our ocean? Or that only 5% of plastic produced is recycled globally? His talk was sobering and made me much more aware of my own plastic consumption. He is part of this expedition to do comprehensive sampling of plastics in the Southern Ocean, a region that has very little data on plastic pollution.
Day 4-5 – 21/22 November – Southampton
The very capable Russian crew delivered us all safely to Southampton. As we pulled into port, we all delivered 2 minute presentations on ourselves, both our academic interests and fun facts. What an accomplished and impressive group of people! I am honored to be included among such kind and brilliant people. I think it's important to list all of the countries that we call home with the warning that it's a long list! Russia, India, Norway, Australia, Reunion Island, Guadalupe Island, Nigeria, France, United States, England, Wales, Scotland, Switzerland, Namibia, South Africa, Germany, Nepal, and Pakistan. All here because we want to learn more about the ocean and realize that tackling the immense and unknown future of our planet will require that we all work together.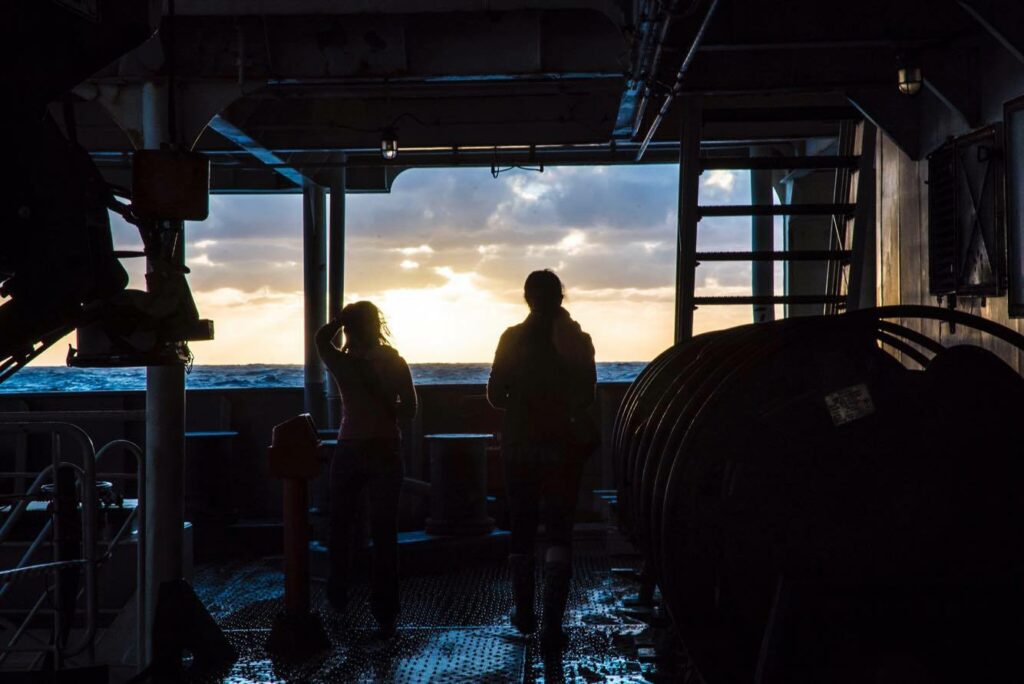 We disembarked as soon we cleared customs to wander the town and pick up last snacks and supplies. I ogled at the ancient walls of the city and the bombed remains of the old stone church as my European shipmates teased me for my amazement. We don't have 800 year old structures in the middle of US cities! It turns out this port has quite the storied maritime past – not only did the Titanic embark from the very docks where our dear Akademik Treshnikov now sits, the Mayflower also left Southampton full of the first European pilgrims to the colonies of North America. Timely, considering American Thanksgiving is in two days. We all took in the festive holiday atmosphere of the German-style Christmas markets in the town center and sent last messages to family and friends back home before boarding again. Next stop: Cape Town, 23 days from now. And of course, another cyclone is waiting for us in the Bay of Bisque.
Day 6 – 23 November – Northern Bay of Bisque
Today we had our first day of lectures in relatively calm seas before the storm. Marcel Du Plessis went over the details of atmospheric circulation and the role of wind in the global heat budget of the planet. Dr. Talia Henri walked us through the tools of the trade – CTDs, ADCPs, XBTs, moorings, drifters, niskin bottles, an alphabet soup of instrumentation. My research involves using some of these devices, but on the scale of tens of meters in nearshore environments. It boggles my mind to think about moorings deployed at 4000m or CTD casts that last 5 hours and go down 800m. I can't wait to get some hands-on experience with these instruments as soon as the weather calms! Graduate student Pascal Graf gave a very timely lecture on weather and climate in the southern ocean, including extratropical cyclones, one of which was developing over our very heads as we inched ever closer to the southern Bay of Bisque.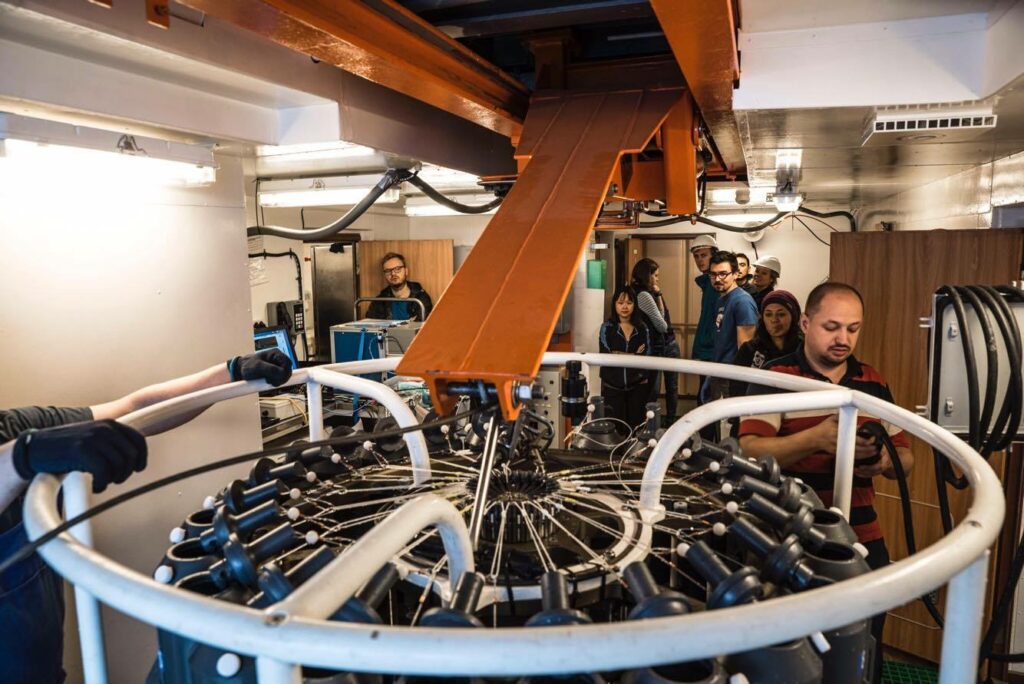 That evening the Americans on the ship introduced everyone to a favorite Thanksgiving childhood tradition: paper hand turkeys! With humble paper, pens, and googly eyes purchased from the pound store in Southampton, we created a flock of wacky and colorful turkeys to festoon the mess hall in time for Thanksgiving at sea. What this group may lack in fine art skills, we more than make up for in enthusiasm and creativity. Our turkeys were Vikings, Swiss cows, astronauts, cowboys, ocean scenes, beach scenes, mountain scenes, and mish mashes of colors, flags and languages. We may have confused the Russian crew, but I think the mess hall looks better than ever!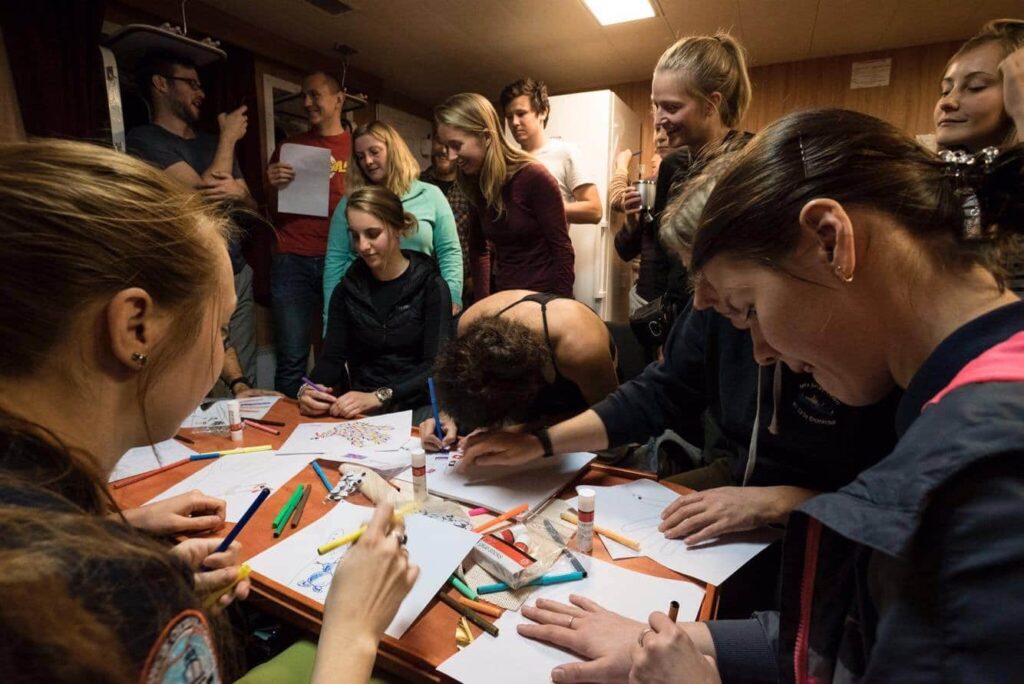 Day 7 – 24 November – South Bay of Bisque
The seas picked up as the day went on until the ship was rolling and tumbling in 20 foot swell into the center of the storm. Nothing like spending American Thanksgiving in the center of a cyclone in the North Atlantic! But with this group, I felt right at home. Once again, weather confined us to the ship and we were forced to skip our sampling for the day because stopping the ship in such inclement weather is very dangerous. We spent the day working on our first assignment – an essay on the Global Ocean Observing System (GOOS) and the need for improvement. As we worked together we gasped as waves hit the port windows and swells sent anything left unsecured tumbling across the room. Thankfully we all seem to have found our sea legs!
Jordan Hollarsmith, student