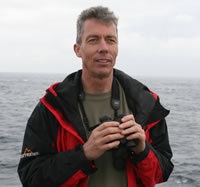 By Peter Ryan, onboard scientist, expert in general ornithology, seabird-fishery interactions, evolutionary ecology, marine debris, solid waste management, biology of oceanic islands.
Leg 1, Day 4 , December 2016

We finally entered Subantarctic waters, and roaring forties lived up to their name. Wandering Albatrosses reveled in the 40-knot winds, and were joined by at least 3 Southern Royal Albatrosses. But the biggest surprise came late in the day when one of the team reported a couple of prions on the Monkey Island. Like many burrowing petrels, they become disoriented by lights at night, and flew aboard the ship last night. As expected, all the prions we photographed today appeared to be Salvin's Prions (prion ID is not for the faint-hearted), and a Salvin's was killed when it collided with the ship. So we were surprised to find that both on the top deck were Broad-billed Prions from Tristan/Gough. They were released without further incident.
Salvin's Prion
80
Soft-plumaged Petrel
58
White-chinned Petrel
46
Black-bellied Storm Petrel
16
White-headed Petrel
  9
Subantarctic Shearwater
9
Wandering Albatross
8
Northern Giant Petrel
 3
Indian Yellow-nosed Albatross
3
Brown Skua
3
Southern Royal Albatross
3
Long-tailed Jaeger
1
Grey-headed Albatross
1
Black-browed Albatross
1
Sooty Shearwater
1
Blue Petrel
1
Sooty Albatross
+ (not seen by birders! ID from team photo…)
No cetaceans were seen, but there was one fur seal (likely a Subantarctic Fur Seal) in the early evening. Only one possible piece of man-made debris was seen (submerged, so not identified with certainty), but several bull kelp (Durvilleae antarctica) plants were seen, with most bearing well-developed goose barnacle colonies consistent with having been adrift for many weeks.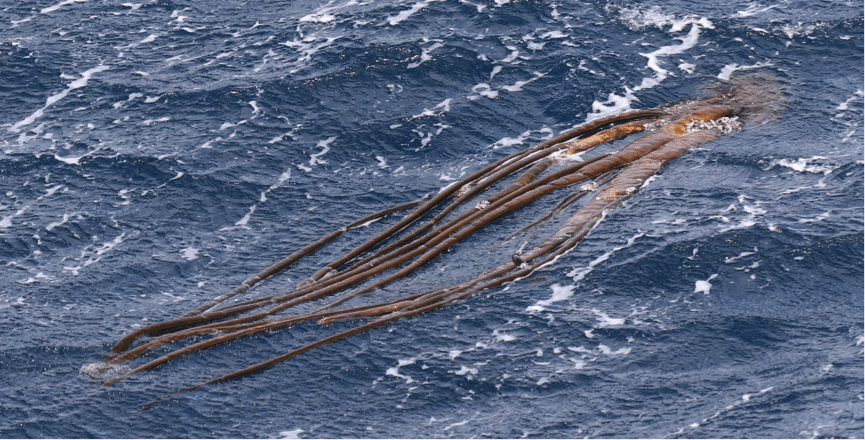 Bull kelp with goose barnacles drifting 250 miles upstream of Marion Island