Les soirées à bord d'un bateau peuvent parfois être longues. Les fêtes restant des exceptions, la règle exige qu'on remplisse utilement ou agréablement ces moments précédant le sommeil. L'un d'eux est devenu un rendez-vous incontournable: les «science talks».
Evening on a ship can be long… And as parties are more the exception than the rule, evenings have to be filled with (useful – fun) activities. One of those activities which has become a "must" are the science talks.
Tous les soirs à 21 h, la salle à manger du navire se transforme en salle de conférence ou scientifiques de toutes disciplines et générations confondues viennent tour à tour présenter leurs connaissances et projet à bord. Le bateau entier s'y précipite. Ces soirées sont si populaires qu'il y a une file d'attente à l'entrée! Gare aux retardataires, ils seront privés de chaises et écouteront la science debout ou assis par terre.
Every evening at 21:00, the mess becomes a conference room where scientists of all disciplines and generations come to present their work on board. These talks have become so popular that queues are not rare. Latecomers will have to participate standing in a corner of the room or sitting on the floor.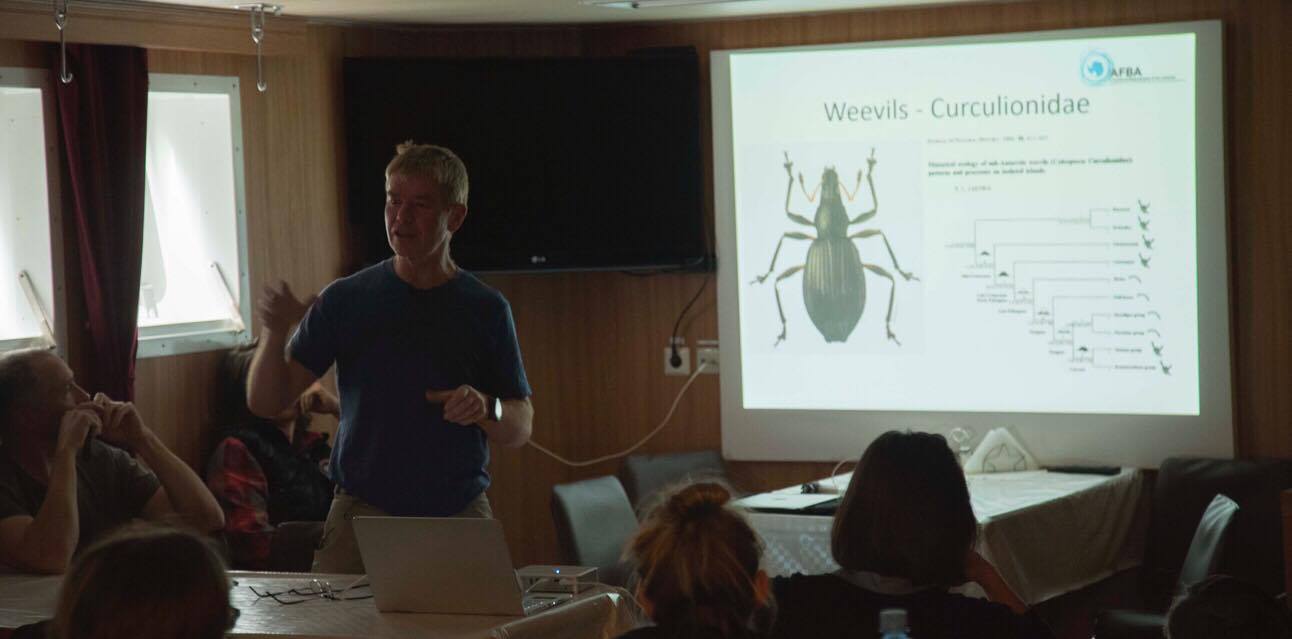 Géologie, biologie, climatologie, zoologie, chimie… Talent et pédagogie sont de mise pour aborder ces diverses matières scientifiques, avec pour trame de fond la région antarctique. Les talks sont toujours suivis de questions et d'échanges nourris entre le public et le conférencier. Plusieurs chercheurs ont d'ailleurs ainsi déjà planifié des collaborations à mettre en place sur le bateau ou après le voyage. Ces «talks» sont pour tous un moment rassembleur, qui offre l'agréable sensation, une fois niché dans sa cabine, de s'endormir plus instruit que la veille.
Geology, biology, climatology, zoology, chemistry… Talent and pedagogy are put to good use to convey the work of the teams on board the Treshnikov. This exchange always leads to numerous questions and exchanges and many projects have already started planning collaborations on the ship and beyond. As for all other listeners, the talks are a great occasion to better understand the buzzing experiments on board the ship and fall asleep feeling just a bit smarter than a few hours earlier.
Pour occuper les soirées, des tournois d'échecs et de ping pong sont également organisés, que les joueurs – des chercheurs comme des membres d'équipages – prennent très au sérieux. Les clameurs suivant les «échecs et mats» et les smashs liftés résonnent dans le bateau jusqu'aux douze coups de minuit. En tant que grand amateur, je peux certifier que le niveau de ping pong est aussi international qu'élevé, sur le Treshnikov, et qu'il offre des parties de hautes volées! Une rumeur circule même qu'une des femmes de l'équipage serait une ancienne championne d'échecs…
Chess and table tennis tournaments are also currently ongoing. Taken very seriously, these activities have the great advantage to bring together the crew and the expedition members. And if table tennis on a ship can be hazardous (but great fun), the chess tournament has indeed produced some very high level matches. A recurring rumour on board is that, a member of the crew is a former female chess champion in Russia.