Text: Sarah Perrin
The deep scattering layer is made up of millions of small fish and zooplankton. It is so dense that it's sometimes referred to as the 'false bottom' of the ocean. This layer exists in all the world's oceans at a depth of a few hundred meters. Researchers on the ACE expedition are seizing this rare opportunity to study the deep scattering layer in the Southern Ocean.
The deep scattering layer (DSL) is a vast underwater carpet of fluctuating thickness and density made up of millions of small organisms that move as one – rising towards the surface in the evening and returning to the depths during the day. This permanent feature of all the world's oceans is also referred to as the 'false bottom' or 'phantom bottom' because sonars sometimes mistake it for the ocean floor.
Comme un tapis vivant caché sous la surface de l'eau
Appelées parfois le «faux-fond» en raison de leur grande densité, les couches de diffusion profondes sont composées de millions de petits poissons et de zooplancton. Elles sont présentes en continu, à quelques centaines de mètres de profondeur et dans tous les océans. L'expédition ACE offre l'occasion à des scientifiques d'étudier celles de l'océan Austral, encore mal documentées.
Elles sont dans tous les océans. Présentes en continu, comme une sorte d'immense tapis caché sous la surface de l'eau, elles sont toutefois plus ou moins denses et épaisses selon les endroits. Composées de millions de petits organismes vivants, elles fonctionnent comme un seul bloc, remontant vers la surface le soir venu et redescendant avec le jour vers les profondeurs. On les nomme les couches de diffusion profondes (CDP). Certains les appellent également le «faux-fond» ou le «fond fantôme», des sonars les ayant parfois confondues avec le sol océanique.
On board the Akademik Treshnikov, an international team led by Andrew Brierley from the University of St Andrews in Great Britain has been tracking the DSL since the expedition began. Located on the top floor of the ship, the team is collecting data on the DSL's depth, thickness, density, shape and distribution using an echo sounder attached to the bottom of the ship's hull. The device emits a low frequency wave every eight seconds and records the echo sent back by any objects it encounters. It can detect the ocean floor down to a depth of 8,000 meters and groups of small organisms down to 1,000 meters. The data is displayed on a screen, with a red line showing the sea floor and a thick blue line showing the DSL.
A bord de l'Akademik Treshnikov, une équipe internationale, dirigée par Andrew Brierley, de l'Université St Andrews en Grande-Bretagne, mesure la présence de ces couches tout au long du trajet de l'expédition ACE autour de l'Antarctique. Perchés au dernier étage du bateau, ils collectent des données sur leur profondeur, épaisseur, densité, forme, composition et distribution, que leur fournit un échosondeur placé sous la coque du navire. Toutes les huit secondes, l'appareil envoie une onde en basse fréquence et enregistre son écho lorsqu'elle frappe des objets, qu'il peut ainsi détecter jusqu'à 8'000 mètres sous la surface pour ce qui est du fond marin et jusqu'à mille mètres pour des agrégations de petits organismes. Une fois toutes ces informations triées, les plus pertinentes sont traduites sur l'écran en lignes de différentes couleurs, indiquant, en rouge, le fond marin et, en bleu, les CDP.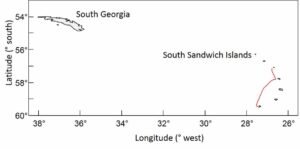 A map of the South Atlantic showing the islands of South Georgia and the South Sandwich Islands. The track of the Treshnikov corresponding to the 260 km echogram section is in red.