What role does the phytoplankton in the Antarctic Ocean play in the region's climate processes? That's what a study carried out during the Antarctic Circumnavigation Expedition (ACE) aimed to find out, by coupling satellite data with optical and chemical seawater analyses.
Les couleurs des microalgues en disent long sur le climat
Quel rôle le phytoplancton de l'océan austral joue-t-il dans la mécanique climatique de la région? Une étude menée durant l'expédition ACE essaie de le savoir en combinant des données par satellite avec des analyses optiques et chimiques de l'eau. 
While not as majestic as killer whales and iceberg formations, phytoplankton nevertheless plays a key role in many of the issues currently affecting Antarctica. It sits at the bottom of the food chain and provides essential nutrients to many animals, from krill and cetacea all the way to penguins, seals and seabirds. It is also involved in many global climate processes like oxygen production and the carbon cycle.
One of ACE's research projects aims to better understand the specific role that phytoplankton plays in the Antarctic Ocean, where few studies have been done on this topic. The project, headed by David Antoine from Curtin University in Australia, looks at the composition and biological cycles of single-cell microalgae. Some 6,000 different species of microalgae currently exist, but they all have one thing in common – tiny pigments that carry out photosynthesis and, when grouped in large numbers, give each ocean a distinctive color ranging from green to brown.
Il fait moins rêver que les baleines ou la formation des icebergs. Pourtant, parmi les nombreuses problématiques touchant la région antarctique, le phytoplancton est un élément essentiel. A la base de la chaîne alimentaire, il fait vivre de nombreux animaux, du krill aux grands cétacés, en passant par les manchots, les otaries et les oiseaux marins. Il est également impliqué dans de nombreux mécanismes climatiques globaux, dont le cycle du carbone ou la production d'oxygène.
Un des projets de l'expédition ACE a pour but de mieux comprendre le rôle spécifique du phytoplancton dans l'océan Austral, région encore peu documentée en la matière. Menée par David Antoine, de l'Université Curtin en Australie, cette recherche porte sur la composition et le cycle biologique de ces microalgues unicellulaires. Distribués en plus de 6'000 espèces différentes en milieu marin, ces végétaux microscopiques ont un point commun: chacun contient des pigments qui assurent le processus de photosynthèse et confèrent à l'océan différentes teintes – allant du vert au brun – lorsqu'ils sont en grand nombre.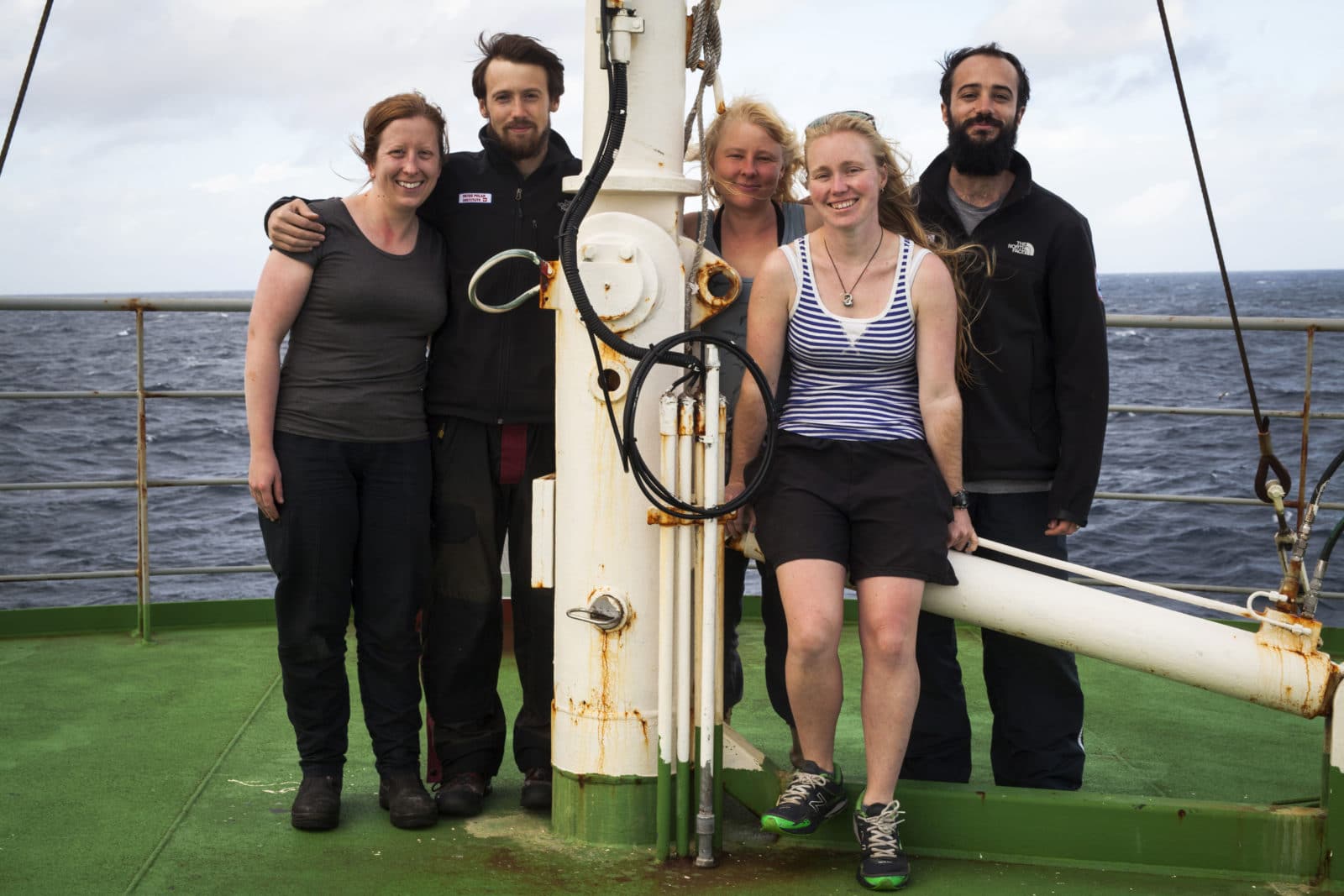 Bio-optics team with, from left to right, Charlotte Robinson, William Moutier, Nina Shuback, Hazel Little, David Berliner/