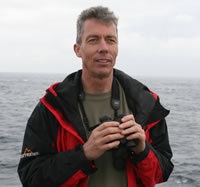 By Peter Ryan, onboard scientist, expert in general ornithology, seabird-fishery interactions, evolutionary ecology, marine debris, solid waste management, biology of oceanic islands.
Leg 1, Day 23.

Another lovely day at sea in the not so furious fifties; the light winds and small swell seemed ideal for spotting cetaceans and other animals in the water, but none was sighted. Birds were mostly fairly scarce, with the noteworthy exception of Short-tailed Shearwaters, which made their first appearance with a bang, coming in as the most abundant species by more than an order of magnitude. Most were in medium to large flocks (10-200 birds), and all were heading east, towards their breeding islands around Tasmania and south Australia. They spend the austral winter in the cool waters of the North Pacific, and large numbers penetrate Antarctic waters in the austral summer, reaching as far as 50°E (don't believe the map in Shirihai's Antarctic Wildlife). They were one of the first seabirds studied for ingesting plastics, with 84% of birds sampled off Alaska in the 1970s containing plastic particles. The population of some 20 million birds probably exports a couple of tonnes of plastic south each year.
| | | | |
| --- | --- | --- | --- |
| Short-tailed Shearwater | 700 | Antarctic Prion | 50 |
| Diving petrel spp. | 30 | Blue Petrel | 17 |
| Black-bellied Storm Petrel | 11 | Mottled Petrel | 4 |
| Wilson's Storm Petrel | 3 | White-chinned Petrel | 2 |
| White-headed Petrel | 2 | Wandering Albatross | 1 |
| Southern Royal Albatross | 1 | Light-mantled Albatross | 1 |
| Southern Giant Petrel | 1 | Kerguelen Petrel | 1 |
| South Polar Skua | 1 | | |
Bull Kelps Durvillaea antarctica were still drifting at sea, with 13 plants seen in 15 hours of transects. The last one recorded during mid-afternoon was close to 2000 km downstream from Heard Island, and even farther from other potential source areas (Tasmania, Macquarie Island). As usual, no litter was seen, but Guiseppe's dedicated litter surveys from the bow observed significant numbers of feathers for the first time since leaving the Agulhas Retroflection. This is also the first area where we have seen many moulting birds (mainly Blue Petrels, but also a few Antarctic Prions and White-headed Petrels).

Part of a flock of Short-tailed Shearwaters heading east past the ship