PRESS RELEASE
Bern, 30 January 2023 – The Swiss Polar Institute (SPI) and the National Institute of Polar Research of Japan, the Research Organisation of Information and Systems (NIPR) signed a Memorandum of Understanding (MoU) today for collaborative research in the polar and remote high-altitude regions. The signing took place in the presence of Ambassador Jacques Ducrest (SERI) and Ambassador KAJI Misako, Ambassador for Science and Technology Cooperation (MOFA).
On 30 January 2023 in Bern, Prof. Christian Leumann and Danièle Rod, representing the SPI, and NIPR Director-General Prof. Dr NAKAMURA Takuji signed a MoU facilitating the cooperation between Switzerland and Japan in relation to scientific research and logistics in the Arctic, Antarctic and remote high-altitude regions.
The MoU follows recent collaborations between various important Swiss scientific actors in the polar and high-altitude research fields (notably University of Bern, EPFL, ETHZ and WSL) and NIPR as well as Japanese universities. This document represents an important step towards the development of new synergies and collaboration opportunities between the Swiss and Japanese polar and high-altitude science communities. The MoU will also enable facilitated access to respective research infrastructure, as well as the exchange of personnel, data, and other resources.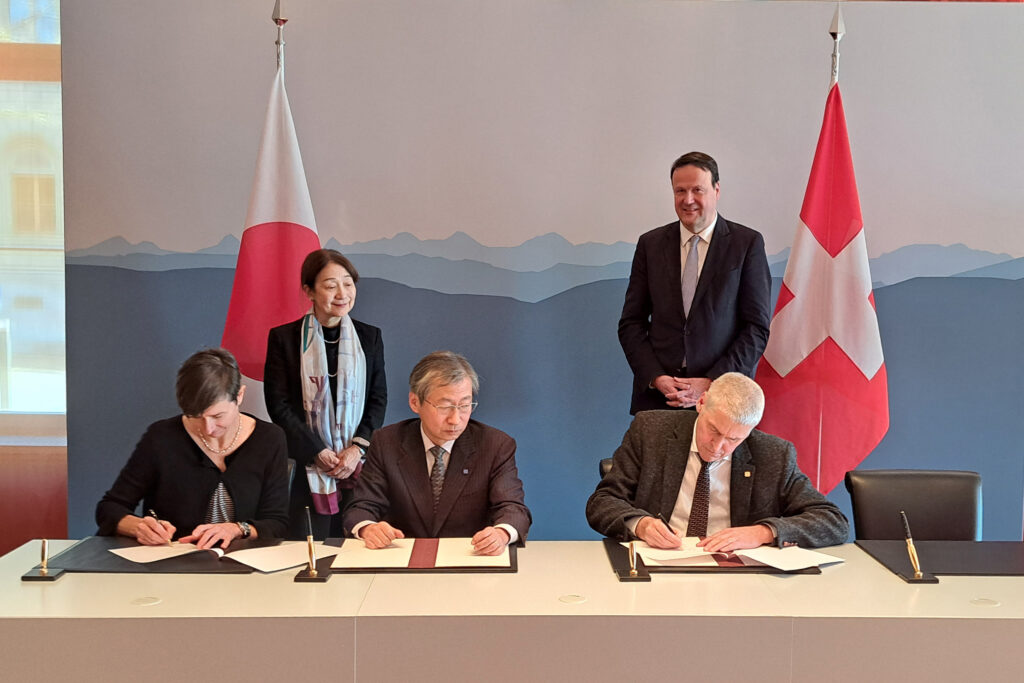 "Switzerland has a long tradition of scientific research and collaboration at the three poles. In the light of the current geopolitical context and the need to share resources responsibly, international collaboration is paramount in polar science today."

Danièle Rod, Swiss Polar Institute
About the Swiss Polar Institute
The Swiss Polar Institute is a foundation under Swiss Law with the mission to support Swiss polar and high-altitude science. The Swiss Polar Institute is recognised as "Research institution of national importance" for the period 2021-2024 by the Swiss Confederation.
About the National Institute of Polar Research of Japan
The National Institute of Polar Research (NIPR) engages in comprehensive research via observation stations in the Arctic and Antarctica. It provides researchers throughout Japan and other countries with infrastructure and support for polar observations and works actively to promote polar science. NIPR is the core Japanese representative institution operating on both poles, conducting cutting-edge research on polar ecosystems, polar climate science, geology, sustainability in polar regions, and more.
Press enquiries
Swiss Polar Institute, Jelena Ristic, Communication Officer, , +41 21 693 76 39