In October 2022, the research cruise along the Davis Strait onboard the American Research Vessel Neil Armstrong, was dominated by surprisingly good weather and a very supportive team. We departed from Nuuk in Greenland and sailed towards the north on a grey and quiet Labrador Sea, where we could see icebergs on the horizon.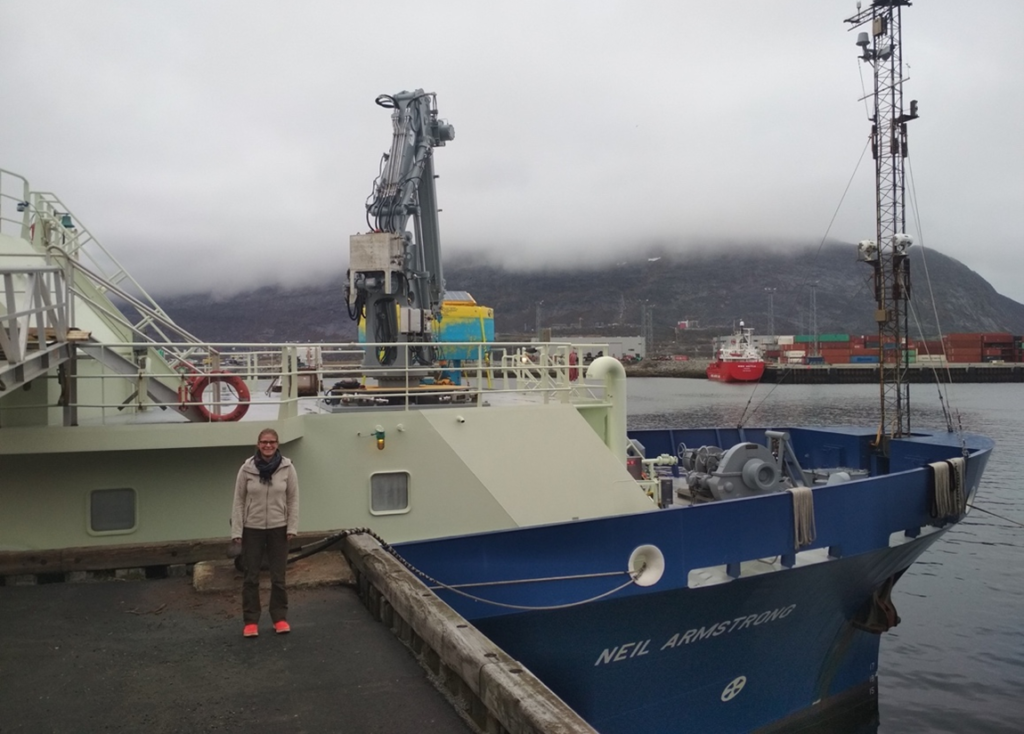 During the day, one team of scientists was devoted to the recovery and deployment of moorings which are sensors that record temperature, salinity, oxygen, and velocity of the water at different depths. During the night, another team – my team – was dedicated to collecting sea water and biological samples, such as fish larvae and phytoplankton. For the purpose of my PhD project, I collected 165 seawater samples to measure the artificial radionuclides Iodine-129 (129I) and Uranium-236 (236U) that were released into the ocean by European nuclear reprocessing plants. In combination with other water properties, such as salinity and temperature, they can be used to trace Atlantic water flowing northwards into the Arctic and the Arctic Ocean currents flowing into the Atlantic. They can provide information on the origin of water masses and maybe even shine a light on the water composition in Greenlandic fjords.
Despite sailing along the polar circle, the first aurora borealis we saw blazed across the sky on the penultimate night of the trip. However, during the day, we got frequent visits from birds and bottle nose whales. At the northernmost point, at 72°N in the middle of the Baffin Bay, we were extremely lucky to see a stunning sunrise while collecting samples from the 2500-metres deep bay.
I'm very grateful I could participate in this cruise and meet so many fantastic and inspiring people. Thank you to my supervisor Núria Casacuberta, who allowed me to travel despite big uncertainties, to the PI of the cruise Craig Lee and Kumiko Azetsu-Scott for their trust in all the participants and their great support to early career scientists. To Caroline Gjelstrup and Maddison Proudfoot for all the fun we had on deck, no matter the time of the day or the weather condition we faced and to everyone whose path I crossed for the unforgettable shared moments and stories.
Without the support of the Swiss Polar Institute, through the Polar Access Fund, this expedition would not have been possible, thank you very much for the support.
---
Lisa Leist is a doctoral researcher at ETH Zurich. Her fieldtrip took place in September and October 2022 with the financial support from a Polar Access Fund grant.